About Tara
"I am moving from 29 years in Barnardos to a smaller personalised practice. To bring children and families a compassionate, professional and creative alternative"
My name is Tara Smith, I live by the sea and I am a Mum. I have worked and played in Child and Family Support for over 30 years. I am a Bereavement Care Practitioner, a Marte Meo Therapist and Supervisor and an Anamcara Apprentice. I am passionate about childhood in family life and all that we can do together to cherish and support it. I started out in Early Education where I spent many happy and invaluable years working with Preschool Children. This experience gave me the solid grounding and insight into how children develop and what it is that helps them to do this. I trained further and began working as one of the country's first Community Childcare Workers. It was during this time while working with and listening to older children and teenagers that I became aware of and curious about children's experiences of loss. The impact of it on themselves, their families and the communities they live in. I am happy to say I am still curious and immensely grateful to all the children and families I have journeyed with along the way. I have been lucky, as each area I have trained and specialised in is about creating a safe space to support children and families to grow as best they can and in their own unique way. I love the work I do and I have invested hugely into maintaining myself as a Practitioner. I have spent 16 years training and during a global pandemic in 2020, I believe now is the time to invest my passion, expertise and energy directly to Children, Families and those working to support them.
To deliver these services to the highest standards vital systems and support structures must be in place. I am delighted to introduce my colleague and long time friend Paula Walsh. We share the necessary work ethic for meaningful action and Paula has the administrative skills to manage and drive our practice that I don't! Having Paula means the services I can offer are fully safeguarded, accountable and compliant. It also means you and I get her great energy to make things happen and the pleasure of her company along the way.

Read More

Tara's work is grounded in Theory and Standards of Best Practice. She is one of the original members of the ICBN and works collaboratively with them and the IHF on an ongoing basis. She is registered and certified with Marte Meo International and receives the necessary ongoing Accredited Clinical Supervision. Tara values Peer Support, ongoing CPD and she is eternally grateful to her Cirlce of Trust and Ceile De groups for the special space they give to nourish her "Soul to Role".

Qualifications/ Training: Anamcara Apprenticeship. Sacred Art of Living and Dying Centre (SALD). 2014-2018: MSc Bereavement Studies.IHF/RCSI 2009-2011: Marte Meo Therapist/ Supervisor. Marte Meo Training Centre HSE/ Tusla 2003-2006: Community Addiction Studies.1999-2000 : HEBER. Working with Bereaved Children and Adolescents. 1997-1998 : Sion Hill Montessori Teacher Training College. A.M.I. Dip.1988-1991 : D.I.T. National Certificate in Social Studies in Preschool Care.1987-1989.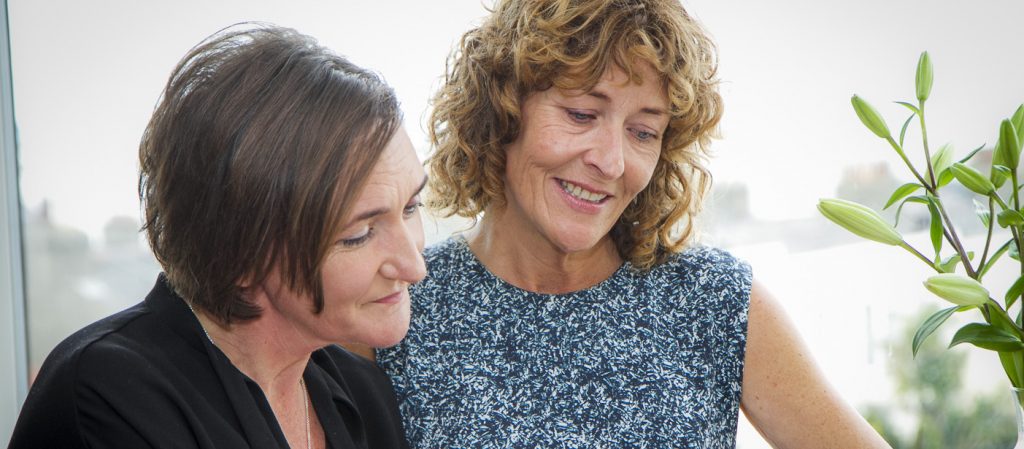 Introducing Paula
I qualified with a Bachelor of Business Studies, and worked for 12 years in the private sector in the areas of Finance, HR, Recruitment and Sales. Working in the recruitment industry gave me the experience of dealing with people from a wide range of backgrounds. Helping people to make realistic and obtainable changes in their lives remains an environment I am passionate about. In 2004, I moved into the non-profit sector and I haven't looked back since! Working for a leading reputable trauma informed children's agency I have been lucky to experience a truly rewarding career. I have had the privilege of seeing first-hand the improvements in the lives of children, young people and families through various targeted interventions. I have vast experience working alongside and supporting teams of Practitioners; my remit is very broad and varied, with no two days the same! I have a passion for planning, organisation and seeking out new opportunities and I believe my positive "Can do / Never say No" attitude contributes to making positive changes in the lives of children, young people and their families. Working in an environment which is highly regulated in terms of Compliance and Transparency, I have the necessary diverse skill set in Administration, Finance, Budget Control and Project Management.
I have worked with Tara for the past 16 years and I have seen her develop her skills and expertise in the areas of Bereavement Care and Marte Meo Therapy. I have witnessed first-hand the unique difference that she makes to peoples' lives and I feel proud to be taking this journey with Tara. The diverse organisational skills gained in my working life alongside running a busy household and family home life has made me extremely resourceful. My role in "What Matters Most" will allow me to provide you with the solution to make things happen in receiving the support you need when you need it with ease. Tara and I will work hand in hand to bring our support services to you with warmth, compassion and understanding and we will continuously strive to exceed your expectations.
What people are saying…
"These are fabulous, such a great idea, you are offering a beautiful resource, fantastic work".
"Thank you Tara I thought you were wonderful and just what we needed at this time".
"Having Tara to turn to was priceless for us and something we will never forget".
"Tara has really touched the lives of the families she supports; she truly cares for those she works with".
"Tara works tirelessly to raise awareness of what we can all do to make a difference"
"The support that I have had with Tara is amazing. She made me feel like a better parent"
"Tara is totally child centred. For such an experienced practitioner she still speaks in plain language to children and their families".