About Us
We are a Child and Family Support Social Enterprise with a special interest in Bereavement Care and Marte Meo Therapy. We provide personalised supports for children, families , schools, voluntary and statutory services. We are here to help families and communities to do their best in challenging, unpredictable or heart-breaking circumstances.
Our Mission: Prompt personal access to experienced compassionate practitioners.
Our Vision: A country where children and families are supported without delay.
Our Founder Tara Smith
"After 30 years in Barnardo's I have moved to the world of Social Enterprise. To bring Children, Families and Communities a Compassionate, Personal and Creative alternative"
My name is Tara Smith, I live by the sea and I am a Mum. I have worked and played in Child and Family Support for over 35 years. I am a Bereavement Care Practitioner, a Marte Meo Therapist and Supervisor, an Anamcara Apprentice and I have professional training in Critical Incident Stress Management. I am passionate about childhood in family life and all that we can do together to cherish and support it.

Read More

Tara's work is grounded in Theory and Standards of Best Practice. She is one of the original members of the ICBN and works collaboratively with them and the IHF on an ongoing basis. She is registered and certified with Marte Meo International and receives the necessary ongoing Accredited Clinical Supervision. Tara values Peer Support and ongoing CPD.

Qualifications/ Training: Critical Incident stress Management CISM: South East Technical University SETU 2022. Anamcara Apprenticeship: Sacred Art of Living and Dying Centre (SALD) 2014-2018. MSc Bereavement Studies: IHF/RCSI 2009-2011. Marte Meo Therapist/ Supervisor: Marte Meo Training Centre HSE/ Tusla 2003-2006. Community Addiction Studies.1999-2000. HEBER: Working with Bereaved Children and Adolescents. 1997-1998. A.M.I. Dip: Sion Hill Montessori Teacher Training College 1988-1991. National Certificate in Social Studies in Preschool Care: Dublin Institute of Technology D.I.T 1987-1989.
Our Board
Our Chairperson Jude Davis LinkedIn
Read More

Jude is a finance leader in LinkedIn and has a background in both HR and Payroll Management. He brings a skill set of people management, delivery of process improvement and strategic planning. Jude is excited to offer his time to the Board and will work to help What Matters Most grow strategically and offer practical help to ensure the vision is a success.

On a more personal level Jude has engaged with What Matters Most following a death to a close friend, he and other close friends quick action along with What Matters Most made the immediate impact of bereavement a less daunting place for the family who were suffering. This has been a key driver also for Jude's commitment to the board, as he sees the value and positive impact it has on those who need it.
Dr Barbara Coughlan PhD
Read More

Barbara works in 3 rd level education and has a background in Nursing, Midwifery and Psychology. Barbara has a keen interest in bereavement education and research in maternal and infant healthcare services. Barbara is a mother and grandmother and believes that her personal and professional experience related to grief and loss will enable her to support the Mission and Vision of the What Matters Most Board of Directors.
Dr Phil Halligan PhD
Read More

Phil has worked in higher education for several years and has a strong background in Nursing. Over the last decade Phil has provided continuous support for students who disclose their disability and has researched and published in this area. To her credit she and the team she led have achieved five awards in this area. This experience and my leadership will provide a strong background to the development of a strong committed team 'What Matters Most' Board of Directors.
Ollie Skehan HSE
Read More

Ollie is National Suicide Bereavement Support Coordinator with the HSE National Office for Suicide Prevention and brings a wealth of experience to the What Matters Most Board of Directors, having worked for Pieta and Samaritans Ireland over the last number of years. Ollie's work centres on providing tailored supports to those bereaved by suicide, if and when they're ready to access them, with compassion and understanding at their heart. A father of three young children, Ollie believes that the work of What Matters Most hugely benefits families during difficult times and a listening ear is invaluable when navigating how to manage grief and loss becomes part of your everyday life.
Siobhan Ward MSc TCD
Read More

Siobhan works in the School of Medicine Trinity College Dublin as the Chief Technical Officer in the Discipline of Anatomy.

The role consists of several responsibilities including management of the Body Donor Programme where she provides information to people who wish to donate their remains to medical science. Following the death of a donor we provide support for the bereaved family during the two to three years their loved one resides in Trinity College Dublin.

Siobhan designed an Orientation Programme for new students of Anatomy, to assist them when encountering donor bodies for the first time. Acknowledging that this may be challenging for some students is foremost in our minds. While work takes up plenty of time, Siobhan is keen sports person playing both Tennis and Golf and is keen to support the mission of WMM to 'provide prompt personal access to experienced compassionate practitioners'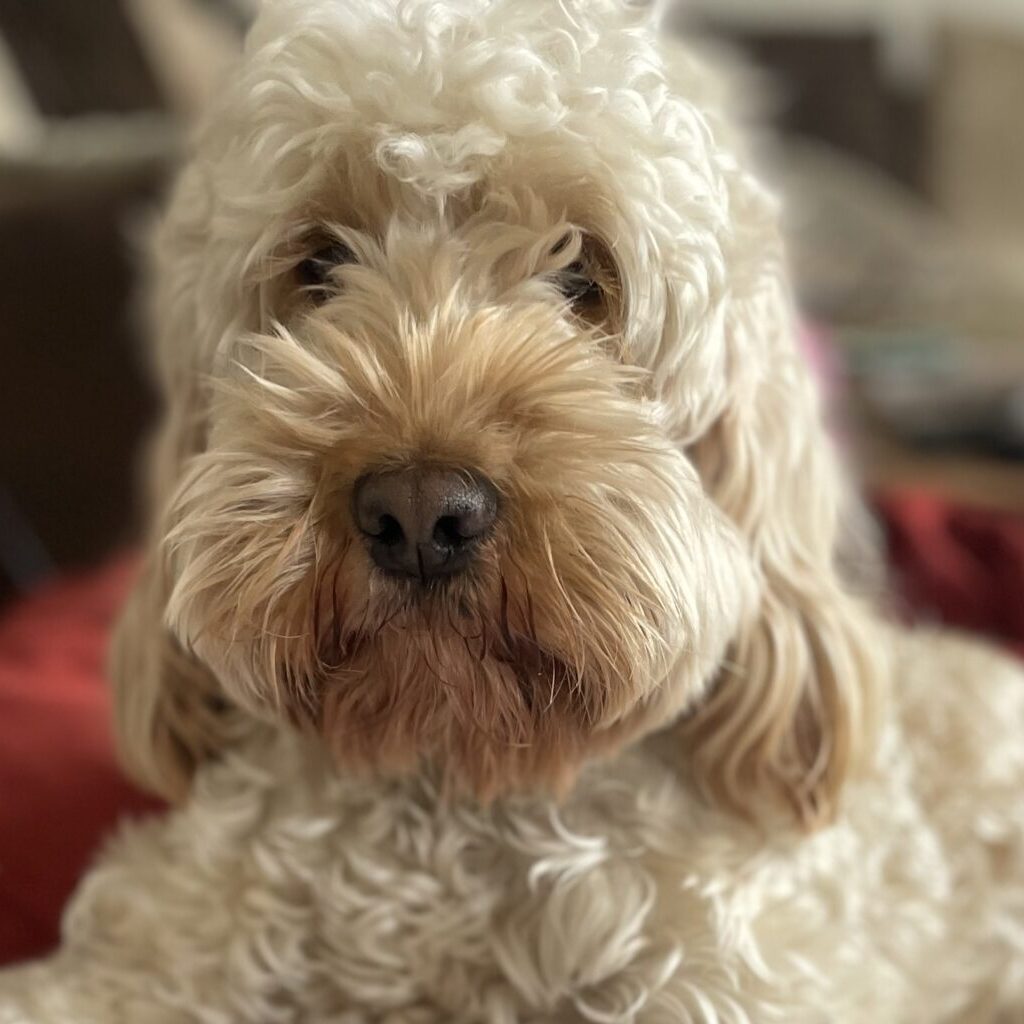 Bú our emotional support cockapoo
We have Bú our emotional support Cockapoo, he is a big hit with children and teenagers. Bú can help make tender conversations about life and death a little easier.
What people are saying…
"These are fabulous, such a great idea, you are offering a beautiful resource, fantastic work".
"Thank you Tara I thought you were wonderful and just what we needed at this time".
"Having Tara to turn to was priceless for us and something we will never forget".
"Tara has really touched the lives of the families she supports; she truly cares for those she works with".
"Tara works tirelessly to raise awareness of what we can all do to make a difference".
"The support that I have had with Tara is amazing. She made me feel like a better parent".
"Tara is totally child centred. For such an experienced practitioner she still speaks in plain language to children and their families".